Per 13 juli 2021 is de stichting William Carey Missions aangemerkt als een algemeen nut beogende instelling (ANBI). Een instelling kan alleen een ANBI zijn, als ze zich nagenoeg geheel inzet voor het algemeen belang.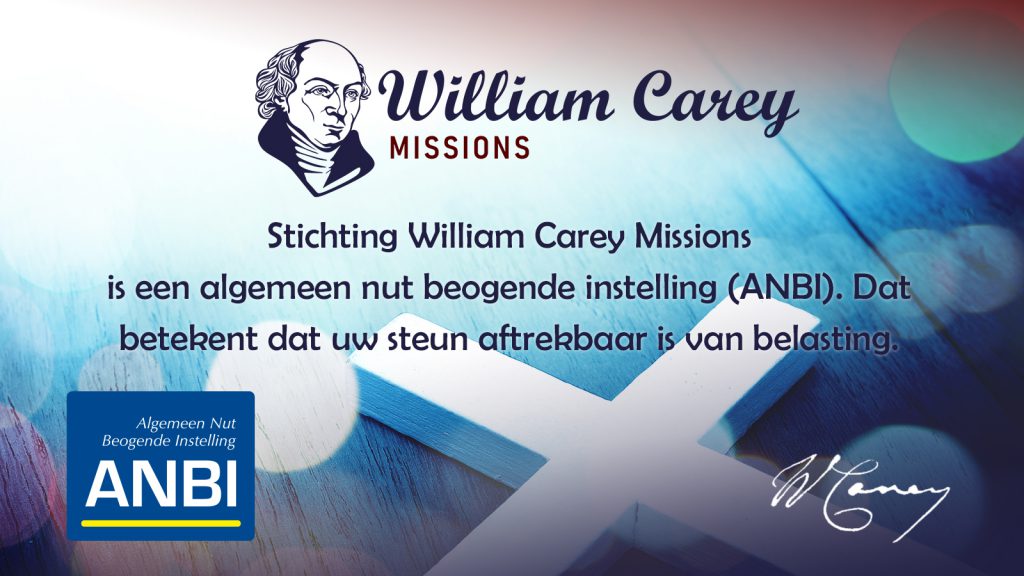 Om aangewezen te worden als ANBI moet een stichting o.a. voldoen aan alle volgende voorwaarden:
Volledig gericht zijn op het algemeen nut.
Moet met 90% van al haar activiteiten het algemeen belang dienen.
Heeft geen winstoogmerk met het geheel van haar activiteiten die het algemeen belang dienen.
De stichting en de mensen die rechtstreeks bij de instelling betrokken zijn moeten voldoen aan de integriteitseisen.

De beloning voor beleidsbepalers is beperkt tot een onkostenvergoeding of minimale vacatiegelden.

De stichting heeft een actueel beleidsplan.
De stichting heeft een redelijke verhouding tussen beheerkosten en bestedingen.

De instelling voldoet aan de administratieve verplichtingen.

De instelling publiceert specifieke gegevens op een eigen of gemeenschappelijke website.